Forums & Conferences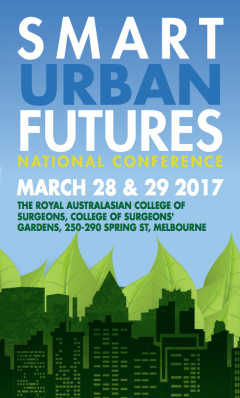 Each year, Victoria Walks and the Municipal Association of Victoria (MAV) host the Smart Urban Futures Conference on liveable, walkable, sustainable communities. The upcoming conference on March 28-29 2017 will feature one of the most exciting line-ups of speakers yet.
Heading the list is Brent Toderian, Principal of TODERIAN Urban WORKS and founding President of the Council for Canadian Urbanism. One of the World's leading urban planners, Brent was Chief Planner of Vancouver from 2006-2012. He now advises cities from Brisbane to Copenhagen, Sydney to Halifax.
Other keynote speakers include:
Dr Tim Williams, CEO, Committee for Sydney
Professor Billie Giles-Corti, Director of RMIT's Urban Futures Enabling Capability Platform
Justin Madden, City Strategy Executive – City Operations Leader, Arup
Lucinda Hartley, Co-Founder, CoDesign Studio
In addition to speakers and panel discussions, the conference will include a workshop session exploring whether the planning for our streets and communities is taking us in the right direction. What are the obstacles and how do we tackle them?
Walkshops will provide an opportunity to see innovative council projects in action on the ground.
Conference participants will also gain exclusive access to a masterclass in behavioural interventions to encourage walking for transport, along with Victoria Walks' official supporters, on 27 March 2017.
View the program or register via the MAV website
Previous events
Smart Urban Futures Conference and related events, March 2016
Walking Tall - getting children on their feet, 2015
Smart Urban Futures Conference 2015