Women and walking in Victoria
At Victoria Walks we've been thinking a lot about women and walking lately. While we're excited that women are active walkers (choosing to walk more than men for recreation, and marginally more for transport) we're also concerned about barriers, such as fears for personal safety, which prevent some girls and women from walking as much as they would like to.

Of all the OECD countries, Australia experiences the highest gender gap for "feeling safe walking alone at night" and only women in Chile, Mexico and Hungary feel less safe than we do. This is not acceptable. We must address the reasons why many teenage girls and women fear walking. Streets that feel safe for us and our daughters will be streets that are safer and more appealing for everyone!
With a strong community of passionate walkers engaging with Victoria Walks already, we're in a good position to start some conversations about improving women's access to public space – our streets, parks and public transport. We've embarked upon a couple of engagement projects in 2019:
Women Who Walk: Princes Park (pilot program with City of Melbourne)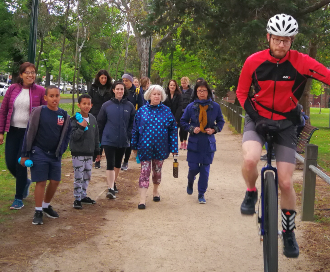 In Spring 2019 we're partnering with City of Melbourne to deliver a series of social evening walks for women at Princes Park in Carlton. The walks are taking place on Tuesday nights until December 10th and are for women who live or who work in the City of Melbourne. To find out more about these events, please see this link
-> http://bit.ly/princesparkwalk
@WomenWhoWalkVic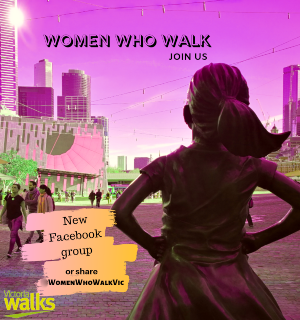 This private Facebook group was established by Victoria Walks in 2019 to provide a space where women can connect with and inspire one another to spread the love of walking. Join the group here.
Who is the group for?
ALL WOMEN Women walk more for recreation and for transport than men, and so are more likely to benefit from walkable neighbourhoods and cities. What can be done to make walking feel safer and more appealing for you? Let's talk! Read more about women's participation in walking in the latest SportAus survey (2019) breakout report.

YOUNG WOMEN Young Australians are turning their backs on car ownership and on driving and we support their desire for safe, alternative forms of transport now and into the future. Our streets, parks and public transport should be and feel safe, but our research indicates that many young women in Australia do not feel safe walking.
Read more in our Young people and walking report.

"NON-SPORTY" WOMEN Women are four times more likely than men to choose flexible, non-organised forms of recreation (such as walking). By building a community of women walkers we hope to provide greater opportunities for inspiration, information and connection and to begin advocating for funding measures aimed at increasing access to and opportunities for recreational walking.

HIKING WOMEN We'll populate this group with our popular walking maps but please share your tips on great day walks and multi-day walks with other members. You may even find some walking buddies!