Let's Walk
About Let's Walk
UPDATE: Join us for Let's Walk™ Lynbrook in October and November in 2018.
Our newest Let's Walk partnership is with the City of Casey. We have walks planned for Tuesday mornings in October/November 2018 for Lynbrook residents and friends. More information here.

Let's Walk™ encourages the people of Braybrook, Footscray and Yarraville to discover the walking routes in their community and feel inspired to walk every day. Victoria Walks and Maribyrnong City Council have been working in partnership to improve, promote and support neighbourhood walks in the city of Maribyrnong.
The aims of the project are to build community connectedness, physical health and wellbeing by populating streets with walkers. Maribyrnong neighbourhoods are a great place to walk; rich in history, art and interesting sites.
We have mapped six quality, safe and appealing neighbourhood walking routes using www.walkingmaps.com.au and hard copies are available. Coloured footpath markers line the routes of four of these routes, making the walks easy for anyone to follow.
The Let's Walk project includes Let's Walk Braybrook Park, Let's Walk Braybrook Streets, Let's Walk Kindersmith Reserve, Let's Walk Dinjerra Primary School, Let's Walk Angliss in Footscray and Let's Walk Yarraville.
Twenty-seven walk events have been hosted by Victoria Walks and Maribyrnong City Council so far.
Let's Walk was developed by Victoria Walks to work with councils and local communities to develop, map and promote safe and appealing neighbourhood walking routes for women. It aims to connect women with each other leading to safer, more social streets and increase women's regular participation in recreational walking.
Background
Social interaction is identified as a key enabler to walking and populated streets are generally safer and more appealing streets for walking. Research indicates that specific routes to support regular walking encourages participation.
The challenge
Walking is the most popular form of physical activity for women but concerns about personal safety are a major barrier to many women walking, staying active and participating in community life.
The approach
Victoria Walks initially piloted Let's Walk in Braybrook in 2016 as a collaborative program designed to improve community interaction and wellbeing, and encourage safe and accessible walking, particularly for women and CALD communities.
Let's Walk centres on the identifying, mapping and promoting easy-to-follow neighbourhood walking routes with good passive surveillance including features such as local parks, shops, schools, dog off leash areas and other attractions.
The program enables councils to deliver on a range of policy objectives across health, safety and community-building and supports increased utilisation of council's assets and infrastructure.
Where to find our walks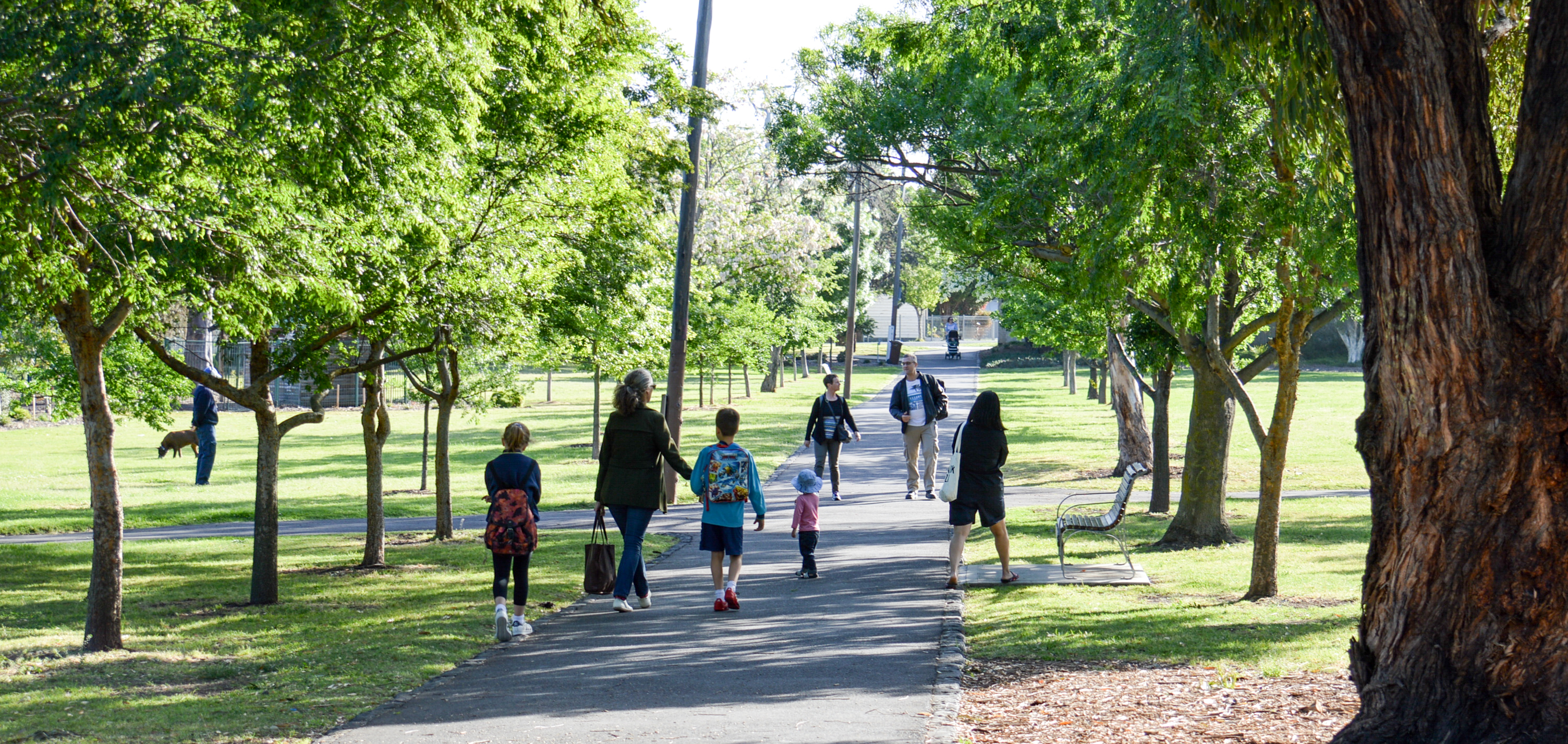 The Let's Walk Angliss and Yarraville Story
Victoria Walks partnered with the City of Maribyrnong, which is an Official Supporter of Victoria Walks, to identify and map neighbourhood walking routes in both the Angliss area of Footscray and Yarraville. Decals were installed on the footpath along the route to help walkers find their way around the neighbourhood. A brochure for both the Angliss and Yarraville routes were also printed and disseminated.
Two hard copy brochures of the walks were developed to advertise the facilitated walks with local community groups and to advertise the routes more generally to residents. These were distributed to Footscray Town Hall, Yarraville Community Centre, Blackwood Neighbourhood House, Angliss Neighbourhood House, Yarraville Senior Centre, Angliss Children's Centre and Angliss Maternal and Child Health.
Let's Walk information was disseminated electronically through:
Maribyrnong City Council internal mailing groups – Older Person's Reference Group, Disability Advisory Committee, Active Maribyrnong and to Leadership Program participants.
Victoria Walks, Maribyrnong City Council and Yarraville Community Centre Facebook and Instagram pages
Let's Walk map/flyer combo were distributed locally by walking participants and through Angliss Neighbourhood House and Yarraville Community Centre.
A Let's Walk article was published in the 2018 Winter edition of Maribyrnong Messenger which is delivered to all residents in the City of Maribyrnong.
Various business areas within Maribyrnong City Council were involved in information sharing and planning of Let's Walk 2, including Community Development, Positive Aging, Diversity & Inclusion team; Early Years team; Health & Wellbeing; Community Centres & Neighbourhood Houses.
The Footscray Historical Society and Angliss Children's Centre Maternal & Child Health contributed to the development of the routes.
The outcomes:
Clear and agreed roles between partners formalised by signed Memorandum of Understanding reflecting shared goals and priorities between partners around investment and belief in walking.
The pre-program and post-program survey results indicate that the program encouraged more people within the neighbourhood to walk - overall, the net proportion of participants who walked for 30 minutes or more per week for enjoyment or fitness increased from 60% pre-program to 81% post-program.
Most (76%) of post-program survey participants indicated that they plan to continue walking regularly in their neighbourhood.
The initial attractions to walk more for enjoyment/fitness in the neighbourhood (walking as part of a group) were realised; with post-program participants highlighting the benefits of the organised walking groups associated with making new friends and walking together.
Attitudes to walking in the neighbourhood improved, with participants generally feeling safer, more comfortable and more connected with people in their neighbourhood and therefore more likely to walk.
Walk & Learn (a pre- accredited training course) was developed by Angliss Neighbourhood House, funded by Adult, Community and Further Education (ACFE) and recognised by Neighbourhood Houses Victoria as an innovative course for English as an additional language (EAL) students.