Change to Walking program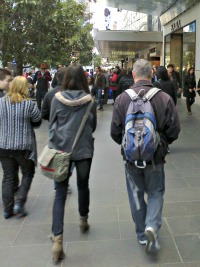 Victoria Walks, in partnership with VicHealth, is offering grants to a small number of Victorian councils to trial behavioural interventions to increase local walking trips. This may include walking to shops, transport hubs, workplaces and schools. The projects in the Change to Walking program will deliver small-scale behaviour change interventions.

Victoria Walks is seeking expressions of interests from Victorian councils for project concepts. If funded, these concepts will be developed with support from Victoria Walks to design an effective behaviour change intervention. Projects would then be delivered in the second half of 2016.

Expressions of interest for the Change to Walking program open on 18 April 2016 and close at 3pm on 6 May 2016.
The total funding pool of just over $200,000 is flexible. A typical funded grant is expected to be $40,000-$50,000 (excl GST), but will depend on the type of projects and number of grants awarded.

Guidelines for the program and other relevant information is available via the links below.

There will be an information session about the program at 10am-11.30am on Thursday 21 April at VicHealth, 15 Pelham St Carlton. Non-metropolitan councils may choose to participate in a teleconference at 1.30pm that day.

Email projects[AT]victoriawalks.org.au to RSVP for the information session or to obtain a copy of the Monitoring and Evaluation Plan.