Walk to school grants now open
1 Mar 2018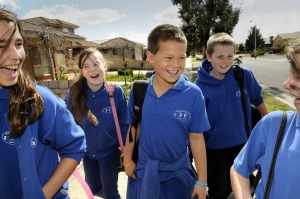 Our friends at VicHealth are looking for enthusiastic councils who are ready to get their local community active, with the Walk to School program.
Every October, Walk to School encourages Victorian primary school students to walk, ride or scoot to and from school.
VicHealth CEO Jerril Rechter says "VicHealth research shows that more than 60 percent of Victorian parents want their child to walk to school more regularly and councils can help by promoting walking routes, helping schools register and encouraging kids to get active."
In 2017, a total of 61 local councils received a VicHealth Walk to School grant to deliver local activities. This saw another successful year of results with 140,303 primary school kids taking part from 759 schools across Victoria. Together they walked more than 1.6 million kilometres during October, the equivalent of walking 2 return trips to the moon.
This year all councils that apply and meet the requirements will receive funding of up to $10,000 per year to support Walk to School. Councils also have the option of securing funding to support Walk to School in both 2018 and 2019 – so that they can have a bigger impact over the coming two years.
Applications close at 3pm on Thursday 12th April.