Conference update
16 Feb 2017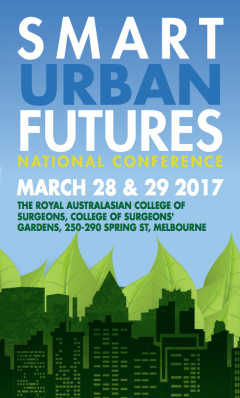 We've announced new speakers and a great 'walkshop' for the upcoming Smart Urban Futures conference, on 28-29 March.
The updated program includes new speakers like:
Antony Sprigg, CEO of the Infrastructure Sustainability Council of Australia.
Ben McHugh, Director Capital Works, Transport Canberra and City Services. Tasked with changing Bunda Street in the commercial heart of Canberra to prioritise people not cars, Ben will explain how they convinced the community of the benefits.
Kieran Wong, Design Director of CODA Architecture + Urban Design (Fremantle) and WA President of the Association of Consulting Architects. Kieran will tell us about White Gum Valley, creating a best practice blueprint for sustainable development of infill sites within middle suburbs.
And we've announced details of the conference 'walkshop.' We'll get out and explore innovative approaches that change the way cars and people interact on streets and in public spaces. Rick Kwasek and Simon McKenzie-McHarg from the City of Stonnington will show us a diverse range of examples in the suburb of Prahran.
Of course we have a great range of speakers previously announced, including Brent Toderian, former Chief Planner of Vancouver and global leader on urban planning.
Check out the conference program or register here.
The Smart Urban Futures conference is a collaboration between Victoria Walks and the Municipal Association of Victoria.