Strict liability for Victoria?
19 Jun 2016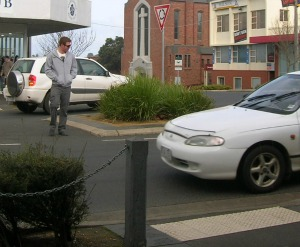 Victoria could be getting a Netherlands-style strict liability law making drivers accountable for crashes with cyclists and pedestrians.
The new agency Infrastructure Victoria has outlined a range of options in a document called All Things Considered. These options will be used to develop a 30 year infrastructure strategy for Victoria, with a draft expected to be released later this year.
The report proposes a range of initiatives to promote physical activity through walking and cycling, including:
Bicycle and walking path expansion and improvement, including separated walking and cycling paths
Changing planning regulations to require that principles of 'active design' are incorporated into the construction of new residential developments
Better data capture for walking and cycling.
But perhaps the most bold, yet cost-effective, proposal is adopting what Infrastructure Victoria call "bicycle and vehicle accident fault allocation." This would change legislation in line with a number of European countries such as the Netherlands, where drivers are assumed to be at fault in crashes with bicycles or pedestrians unless proven otherwise - a system often described as 'strict liability.'
While Infrastructure Victoria have put this option forward they don't seem entirely convinced, because they believe it would not have a big impact on walking or cycling participation:
"Given the high degree of legal complexity and difficulty which would be involved with this option, it would need to make a higher contribution than the initial assessment suggests."
Strict liability has excellent potential to address a key pedestrian safety issue, which is drivers failing to give way to pedestrians when they are legally required to do so. In addition to improved safety encouraging more walking and cycling, strict liability would send a strong message that walkers and riders are valued by society. This is likely to flow into further increased participation.
Consultation on the proposals closed on 17 June. Victoria Walks lodged a submission strongly supporting strict liability and other options that would encourage walking, while proposing some refinements.